How Long Is A Dissertation?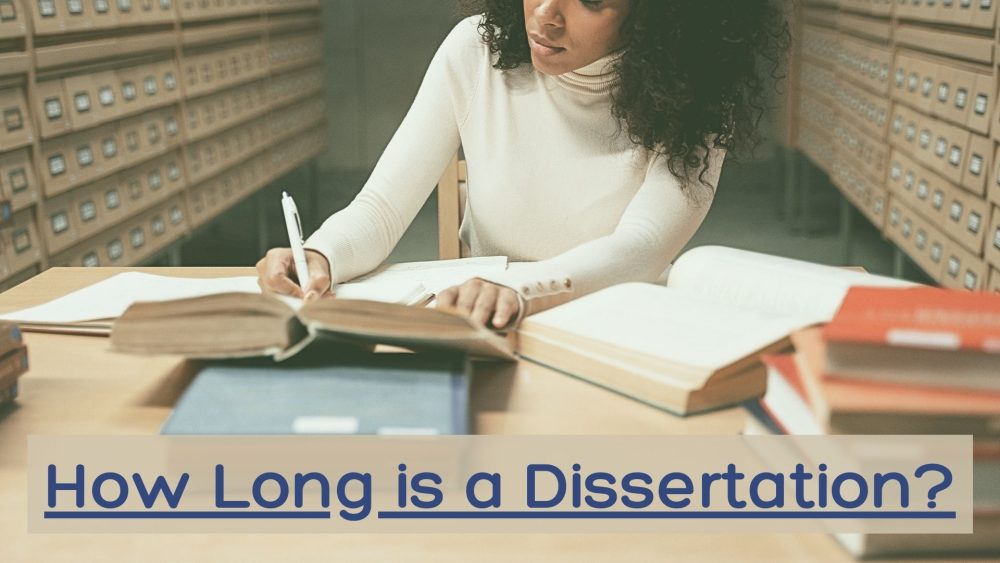 Dissertations require a tougher approach regarding research, data analysis, and writing. Thus, your professor would expect your dissertation to be at least a certain number of words long. If the paper is shorter than expected, you haven't done the quality work required for a doctoral paper. This can either cause a decrease in your grades or your supervisor telling you to rewrite the paper altogether.
Moreover, before you get to the stage of writing a dissertation, you must have submitted a proposal, which should've been approved. You've come to the right place if you've got a dissertation to submit and aren't sure how long it should be. This article will discuss the question of – how long is a dissertation, dissertation proposals, and why they are the length they are. We will also throw in a general outline most dissertations follow and what should be included in each of the sections.
Dissertation Length: What Is the Common Length for a Dissertation?
A standard dissertation should be at least 100 and 300 pages long. A dissertation contains original research that should contribute to existing knowledge but posit a new idea. Also, the paper should be appropriately divided into sections, including the introduction, literature review, methodology, and conclusion. Dissertations are broken into different chapters, main divisions, and subdivisions to make them easy to read and understand.
However, dissertations come in different types, and each type has a certain length it should be. Generally, Ph.D. dissertations are the longest and most complex – as much as 100,000 words. Nevertheless, a PhD dissertation length is also subject to the requirements set by each institution. Therefore, you should check your university's guidelines to determine your dissertation's length.
Dissertation Writing Goals: Why Do They Have to Be So Long?
Dissertations, especially Ph.D. dissertations, tend to be very long for a variety of valid reasons. One primary reason dissertations are so long is that the paper summarizes years of hard work and research. If you're asking, "How long is a thesis," here are reasons Ph.D. theses and dissertations are so long.
Years of Research and Analysis: Ph.D. theses contain many years of academic work, including research and analysis. For this reason, the best thing to focus on in your dissertation the moment you start is your research. The amount of work you must do adds up quickly, and starting early ensures it doesn't get cumbersome. While not all of the research may go into your dissertation paper, most of it will.
Information-Rich Literature Review: Another reason dissertations are long is the depth of information contained in the literature review. The literature review chapter is usually one of a dissertation paper's most substantial parts. The length of the dissertation depends on the amount of data and publications available in your field. To write an information-rich, in-depth literature review, you need as much research and data analysis as you'd get for your paper's central section.
Schematics: A dissertation paper will contain several figures and schematics, which can boost the number of pages you eventually submit. The schematics can go a long way in highlighting the important aspects of the paper – after all, pictures paint thousands of words. More explanations on subsequent pages should follow the pictures to make them more meaningful.
Citations and References: The number of pages indicated in your university's guidelines for your dissertation does not include the references and citations. Nevertheless, these tend to take up many pages in a dissertation, adding to the paper's bulkiness.
University Formatting Guidelines: Besides the number of words set by your university, there will also be formatting rules that can increase the length of your dissertation. For example, if the rules say you should double-space and use larger fonts, you will have more pages. Your university will have its requirements concerning the number of pages, paper quality, and formatting, among other things. These rules can affect the thickness of your dissertation paper in more ways than one.
How Long Is a Dissertation: Different Dissertation Types and Their Lengths
The word count for a dissertation will depend on many factors, such as your academic level, field, and institution. Regarding the level of education, there are three main types of dissertations. Each type of dissertation has the required number of words as follows:
Undergraduate dissertation: An undergraduate has the smallest length as far as how long is thesis. These types of dissertations are usually between 8,000 and 15,000 words in length.
Master's Dissertation: Master's theses or dissertations are longer than undergraduate dissertations, are naturally more complex, require deeper research, and take longer to complete. Generally, the number of words contained in a master's thesis would be about 12,000 to 50,000 words.
Ph.D. Dissertation: Ph.D. dissertations have the longest word count as far as academic writing is concerned. Aside from being the longest, they're also the most complex paper one can write for an academic degree. With that said, the average length of PhD dissertation by major is 50,000 words long – reaching up to 100,000 words (or 300 pages).
General Outline Sample for Doctoral Dissertations
Creating an outline is an important step in a dissertation writing step that you should not miss. With an outline, you can organize your ideas and even envisage the kind of research you want to carry out.
Your outline should contain sections in your dissertation, albeit a summarized version, and the content will depend on the dissertation length. With that said, here is a sample outline for a typical doctoral dissertation, from a professional dissertation writer:
Title: This is the anticipated topic of your paper, which your supervisor must approve before you begin research. Considering how long you'll be working on this topic, you should choose the right one.
Abstract: The abstract is the elevated pitch of your Ph.D. research work. It is a summary of the entire paper, indicating the aim of your research and highlighting the results. You will want to write this section last to ensure you include the necessary information.
Introduction: In this section, you will introduce your study area and share details about your research questions, hypotheses, and thesis statement. Situate your research within a conceptual or theoretical framework or an existing paradigm.
Literature Review: Consult previously written papers on your study area and bring them under this section. Also, divide your findings into sections and subsections at your discretion.
Methodology: The shape your methodology section takes will depend on whether your research is quantitative or qualitative. Either way, describe the methods you used in the research, including population, scope, and data collection.
Results: Here, you will present your findings and the tools or methods you used for analyzing your data.
Discussion: This section will contain an interpretation of your findings. Also, discuss the limitations of your research and speculate the future implications of your findings – or the related opportunities.
Conclusion: Conclude the paper by answering your research question in a summarized but concise manner.
Get Dissertation Help
Dissertation writing should be interesting and fun because it is research – you're discovering new information. Still, it can be difficult to complete, especially if you wait until the end of your program to start writing it. You can always hire a custom dissertation writing service to help and offer you dissertation consulting, if you're finding it too hard.