Thesis & Dissertation Acknowledgements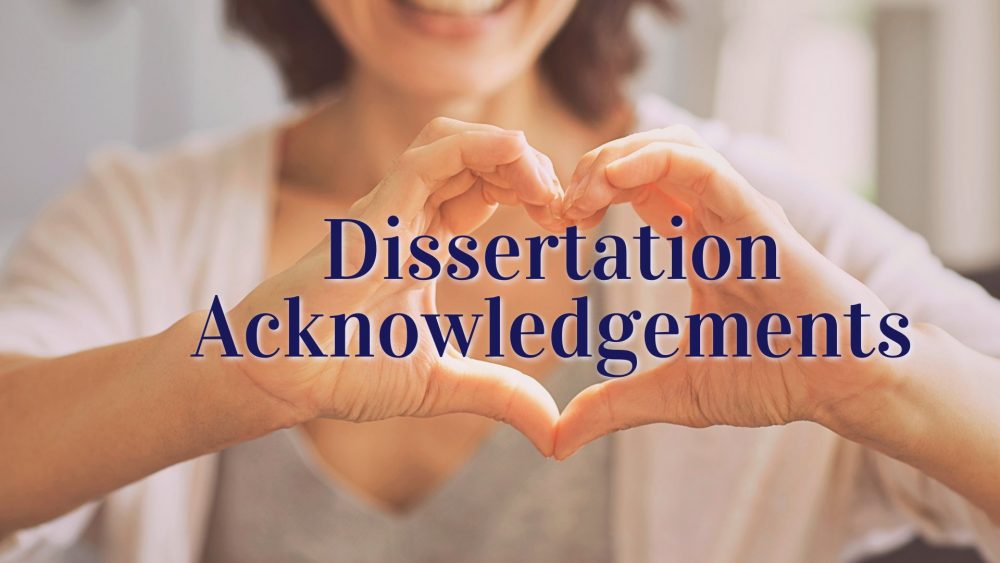 Acknowledging those who support your graduate work is an important, yet often overlooked, component of a thesis or dissertation. While the focus is rightly placed on the research and writing itself, taking time to recognize those who helped make it possible is a meaningful gesture of gratitude. In this article, we will provide a comprehensive guide to crafting effective and thoughtful acknowledgments.
We'll first define what acknowledgments are and explain their purpose within a graduate paper. Next, we'll offer tips for including the right people and expressing your appreciation in a sincere yet polished way. Examples will illustrate how to structure and format your acknowledgments properly. We'll also discuss common dos and don'ts to help you avoid any missteps. By the end, you'll feel confident in your ability to acknowledge all those who supported you throughout your graduate journey.
What Are Dissertation Acknowledgments?
Dissertation acknowledgments provide an opportunity to thank the key individuals who supported and guided the completion of doctoral research. This formal yet personal section allows the author to recognize those who offered invaluable expertise, feedback, encouragement, and more throughout the dissertation journey.
According to recent research studies on dissertation acknowledgments:
They help to recognize the extensive support network that was invaluable in helping the student complete their research project. This network is often overlooked despite playing a big role.
Including acknowledgments helps to personalize the dissertation and shows the human/personal side of the work, rather than just seeing it as an academic document. This can help examiners engage with the thesis.
It creates positive feelings and goodwill towards the student from those acknowledged. Supervisors especially appreciate public recognition of their efforts and guidance.
Expressing appreciation has well-documented mental health benefits for students during the stressful thesis writing process. It provides an opportunity to reflect on the support received.
For professional master's students, acknowledgments can strengthen industry connections and partnerships that may benefit future career opportunities.
How To Write Dissertation Acknowledgments
Here are the basic steps on how to write dissertation acknowledgements:
Thank your committee members. Be sure to thank your advisor, committee chair, and other committee members for their guidance and support throughout your dissertation journey.
Acknowledge any funding sources. If you received financial support through grants, scholarships, or a teaching/research assistantship, thank the organization or department that provided these resources.
Appreciate friends and family. Express gratitude to loved ones for their encouragement, understanding, and patience as you dedicated long hours to your research and writing.
Cite any additional mentors. If other faculty, colleagues, or professionals provided valuable advice or expertise, acknowledge their contributions here as well.
Proofread carefully. Have someone you trust review your acknowledgments to catch any errors before final submission. Make sure information is formatted and presented professionally.
Dos And Don'ts Of Dissertation Acknowledgments
Here are some additional tips to keep in mind:
DOs:
Express deep gratitude and appreciation for your supervisors' guidance and support throughout your PhD journey. A heartfelt thank you goes a long way.
Acknowledge any funding sources that enabled your research. This is important for them to see the impact of their investment.
Thank friends and family for their encouragement, patience, and for believing in you. Their support was invaluable.
Keep it concise yet meaningful. One well-written paragraph is sufficient to acknowledge all contributors.
Proofread your acknowledgments to ensure the correct spelling of names and appropriate language. This shows respect for those thanked.
DON'Ts:
Forget to acknowledge anyone who significantly helped your research and writing. Leave no stone unturned to show appreciation.
Use overly casual language or be too brief that it comes across as insincere. Strike the right tone of gratitude.
Exceed one paragraph length which may distract readers from your actual dissertation work.
Include any negative comments no matter how you felt at times during your PhD journey. Keep it positive!
Examples Of Effective Dissertation Acknowledgments
Here are some examples of dissertation and thesis acknowledgements. They demonstrate gratitude to people who provided thesis help or had any impact on your dissertation:
"I would like to thank my supervisor, Dr. Mitra, for his invaluable guidance and feedback throughout this research project. His expertise in the field of cognitive psychology helped shape the direction of my study. I am also grateful to my committee members, Dr. Jones and Dr. Williams, whose insightful comments and questions about my proposal and defense helped strengthen my work. Finally, I wish to acknowledge the financial support of the Social Sciences and Humanities Research Council."
"I am deeply grateful to my family for their unwavering love and encouragement during my graduate studies. To my parents, Jane and John, thank you for your emotional support and for believing in me. To my partner Sam, thank you for your patience, for keeping me fed on late nights of writing, and for always reminding me to take breaks. I could not have done this without all of you in my corner."
"I wish to thank my advisor Professor Johnson for her guidance and feedback throughout this research. I am also grateful to my committee members Dr. Smith and Dr. Williams for their insightful comments. Finally, I want to acknowledge the support of my friends and family who encouraged me every step of the way."
"I would like to express my sincere gratitude to my advisor Professor Jennifer Smith for her invaluable guidance, feedback, and support throughout this research. I am also thankful for the insightful contributions of my committee members, Dr. Michael Jones and Dr. Samantha Williams, who provided thoughtful comments and challenges that helped strengthen my work. Finally, I wish to acknowledge the unwavering encouragement of my friends and family, who motivated me throughout this lengthy process. I could not have completed this endeavor without the assistance of these important people."
Difference Between A Thesis And Dissertation Acknowledgement
Here are the key differences between a dissertation acknowledgement and a thesis acknowledgement:
Purpose: A dissertation acknowledgement thanks those who helped with a doctoral degree, while a thesis acknowledgement recognizes support for a master's degree. The dissertation generally requires more extensive research.
Tone: A dissertation acknowledgement is more formal since a Ph.D. is a higher academic achievement. Thesis acknowledgements can be slightly less formal.
Length: Dissertation acknowledgments tend to be longer since doctoral research often spans several years. Thesis acknowledgements are typically 1-2 paragraphs.
People thanked: Dissertation acknowledgements often recognize a wider network of supporters over many years, including committee members, program directors, funding bodies, colleagues, friends, and family. The thesis acknowledgements focus more on academic advisors, committee members, and peers who directly contributed to the research project.
Placement: Both usually come after the abstract or preface/foreword and before the table of contents. Dissertation acknowledgements may also appear after the dedication page. Thesis acknowledgements are usually placed earlier in the document.
Language: Dissertation acknowledgements use more sophisticated vocabulary to reflect the advanced academic level. The thesis acknowledgements have simpler language.
Detail: Dissertation acknowledgements may provide brief details about how different individuals specifically supported the research journey. The thesis acknowledgements focus more on general thanks.
Get Dissertation Assistance
We hope this comprehensive guide has equipped you with the knowledge and examples for how to write acknowledgement for dissertation. Remember that acknowledgments serve as an opportunity to express gratitude to those who supported your academic journey.
With the tips provided, you can be sure to properly recognize all those who helped make your research possible. It is also important to recognize that the support of others extends beyond the immediate needs of your research. Mentors, advisors, friends, and family provide invaluable emotional support during the challenges of graduate study. Their encouragement helped sustain your efforts and motivated you to persevere, even during frustrating periods.
This support network is truly worthy of recognition for helping you achieve this important academic milestone. We encourage you to draw upon the eloquence of your writing to sincerely convey how grateful you are for the contributions, both tangible and intangible, of all those who played a role in helping you reach this significant point in your career.
To take your work to the next level, consider engaging the skills of professional dissertation writers. Our team of experts has assisted countless graduate students in completing their theses and dissertations through superior research, writing, and dissertation editing help. Whether you need assistance with specific sections or would like us to handle your entire project, our dissertation writers can help you produce outstanding work efficiently and effectively.
Rely on the leaders in the industry to help you cross the finish line with a dissertation that truly reflects your highest abilities. Contact us today to discuss how we can support the final steps of your academic journey.
FAQs
Who should I acknowledge in my thesis or dissertation?
You'll want to acknowledge anyone who provided meaningful support during your graduate studies and research. This typically includes your advisor(s), committee members, lab mates, friends, and family who supported you emotionally, and funding sources. Be sure to obtain permission from individuals before acknowledging them.
How do I properly word my acknowledgements?
Acknowledgements should be heartfelt but formal in tone. Address individuals by their full names and titles or roles (e.g. "Dr. John Smith, my academic advisor"). Express your sincere gratitude for their contributions while maintaining a professional tone. Avoid fluff and hyperbole.
Is there a standard format for acknowledgements?
While formats vary, acknowledgements commonly have an introduction thanking all contributors, followed by paragraphs organized by relationship (advisor, committee, friends/family). Consider a brief introduction thanking all who supported your work, then address advisors together thanking them for their guidance, then the committee thanking them for their time and feedback, then any funding sources or departments, and finally friends and family.
How long should acknowledgements be?
Acknowledgements pages are typically one paragraph or one short page. Keep it concise while still recognizing all meaningful contributors. Edit out redundant or less important acknowledgements if it exceeds one page. Your thank you to each individual or group should be one to three sentences max.
What if I accidentally leave someone out?
Mistakes happen, so don't stress if you realize a minor omission after submission. For important contributors, contact your advisor to discuss options like submitting an addendum page. In the future, have others review your acknowledgements to catch any other oversights before the final submission. A thoughtful acknowledgement shows gratitude, even if not perfectly comprehensive.