Top 100 Motivational Speech Topics to Write About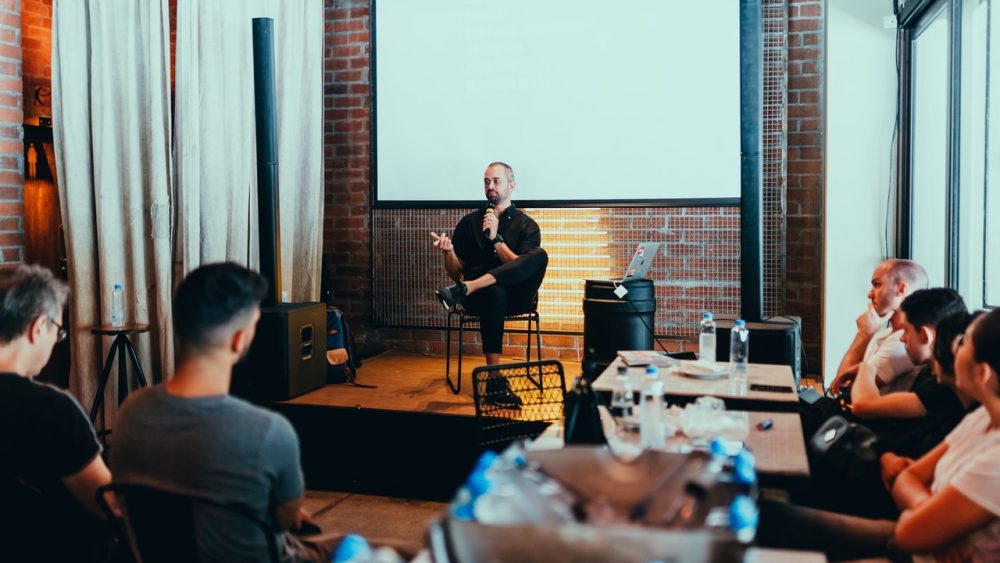 Making speeches on motivational topics is a rewarding and exciting experience. However, it's also a challenging task because you must choose good motivational speech topics based on your audience. Motivational speeches deliver inspiring messages. When written and delivered properly, these speeches can improve the lives of the audience. Here are some of the best ideas to consider when writing a motivational speech.
Inspirational Speech Topics for Businessmen
Perhaps, you're pursuing a business-related course and you want to write a speech in your field. In that case, consider these inspirational topics for your speech.
How to start small and grow your business
How to recover from business failures
How to start a shop
Business teamwork: How it works
How to keep your enterprise afloat during a pandemic
Surviving in the changing economies
Getting started: Brilliant business ideas
How to save and start a business
Building resilience in your business
Top skills for partnerships
These can also be great inspirational essay topics. Nevertheless, take your time to think and present your ideas creatively to move your audience.
Motivational Topics for Youth
When writing a speech that will inspire young people, you need topics that will enable you to connect with them. Here are some of the best motivational topics for youths you can write about.
Effects ways to boost self-esteem
What do you plan to do with life?
Success is a journey that starts with a single step
How to be a good social media use ambassador
Don't try to be everybody else because you'll lose yourself
Don't quit until you make yourself proud
Prepare to lead your country in jubilation
Motivation for creating life
Lifestyle motivation- What is it?
How to motivate yourself to achieve your goals
Any of these motivational speech topics for youth can inspire young people to do something in life. However, take your time to package your information properly and practice its presentation before delivery.
Motivational Speech Topics for Students
Do you intend to make a speech with students as your audience? Well, you have many topics to consider for your speech. Here are some of the best motivational speech topics for college students.
Importance of time for college students
Why modern students should be tech-savvy
Is a phone important in college?
Effective ways to complete homework fast
Poor performance in the exam doesn't mark the end of your life
How to excel in a science course in college
Effective ways to motivate yourself in college
Why a positive attitude matters when pursuing a college education
How to work smart in college
Tips for excelling in all college courses
Pick any of these topics and then develop them with your audience in mind. That way, you'll come up with a speech your audience will listen to from the beginning to the end.
Motivational Speech Ideas about the Environment
Perhaps, you want to talk about environmental conservation and related issues. In that case, consider these motivational speaking topics.
Why humans should do away with diesel cars
The importance of trees in life preservation
How humans can co-exist with wild animals harmoniously
How to minimize soil erosion
How to recycle industrial wastes
Preserving trees by becoming a paperless society
How to prevent the extinction of the endangered species
How to conserve the environment by staying at home
Why the World Environment Day matters
Effective ways to reduce the global warming rate
These are great topics to consider when writing a speech about the environment. However, you may have to research your topic before writing the speech.
Inspirational Topics for Presentation
Do you plan to make a presentation at a conference? If yes, consider these motivational meeting topics for your presentation.
What differentiates winners from losers
Effective ways to shed unnecessary weight fast
How to use promotional jobs to make sales
How to survive the coronavirus pandemic
Why you should treat others the way you wish to be treated
How Mother Teresa's life inspired the poor
What's the future of technology?
Why every life on earth matters
How to develop yourself
The inspiring life of Nelson Mandela
These are amazing motivational topics for presentation. Nevertheless, be ready to invest time and effort in drafting your speech.
Funny Motivational Speech Topics
Maybe you want to make your audience laugh as you make your speech. In that case, pick a title from this list of motivational speech topics.
Being happy will drive others crazy
Boys and girls- Who gossip more?
Why you should avoid food challenges
Why people should have an insurance policy for a breakup
Men should avoid skinny jeans
Why you should master the art of lying
Why grownups are weird
Why grass seems greener on the other side
Why there should be background music in life
Chocolate doesn't ask stupid questions
These are funny inspirational topics to write about. Nevertheless, exercise your creativity to come up with an effective and humorous speech.
Motivational Persuasive Speech Topics
Perhaps, you want to be motivational and persuasive in your speech. In that case, consider these motivational speakers topics.
School leaders should set high-achieving curricula for learners
Overcome public speaking fear and stage fright
Prudence as an effort for making more people believe in your plans
Aiming straightforward in your project, emphasizing, and evaluating your achievement
How to form a moral toolset for young children and building further when they become adults
Setting clear goals and devoting positive energy towards their achievement
How to help people with no motivation for leading a happy life
Moral imagination as art for spiritual and intellectual development
Why following your dreams can be hard
Why many people don't follow their hearts when choosing life partners
These are interesting persuasive topics for inspirational speeches. However, take your time to compose a speech that will motivate your audience and persuade them to take action or agree with your viewpoint.
Motivational Sales Meeting Topics
Perhaps, you are looking for the best motivational speech topics for employees in the sales field.
Sales don't have an easy button and prospecting is difficult- Having the right attitude
Prospecting continuously to keep the sales pipeline full
Sell ideas more, rather than benefits
Getting started is the secret to getting ahead
Every difficulty comes with an opportunity
Prospecting in sales entails finding a person with a problem you can solve
Sales are generally contingent on the salesman attitude, not the prospect's attitude
Developing your sales growth goals beyond those of the company
Being too enthusiastic can make you miss a sale, but you will miss a hundred sales for not being enthusiastic
What the top 10 salesmen do differently
Work on any of these topics by researching extensively to come up with a great speech. Ideally, consult different, relevant sources to come up with information that your audience will find helpful.
Easy Motivational Speech Topics
Perhaps, you don't want to research and write or talk about something complex. However, you still want to motivate your audience. In that case, consider these motivational speech topics.
Heroic acts that prove the existence of humanity
Tips for selecting a rewarding and stunning career in college
The importance of meditating during the early hours of the morning
How to unleash your full potential
Tips for adopting the right diet
How to improve communication skills and avoid stage fright
How to turn goals and dreams into realities
How to deal with depression and trauma
The best way to propose to your lover
Why healthy life is important for the attainment of life goals
Gender roles are not gender requirements
It's okay for a man to cry
How to be your children's role model
Advantages of multi-cultural environment studies
Why everybody should have access to quality education
Importance of better self-control
Why charity is important for children's education
Coping with family challenges in modern times
How to balance extracurricular activities and social life
How to think positively
These are great topics to write about when you intend to make a speech. However, any of these topics require time to research and brainstorm for ideas. What's more, take your time to package your message properly. That way, you will come up with a speech that your audience will listen to from the beginning to the end.
Final Thoughts
Students have many topics to consider when writing speeches for different occasions. This list includes only a few ideas you can explore. Some of them are also great inspirational journal topics. Nevertheless, pick a topic you're comfortable researching and writing about. Also, consider your audience to present a message they will find worth listening to.
Frequently Asked Questions
What are some tips for delivering a successful motivational speech?
To deliver a successful motivational speech, start by choosing a relevant topic, knowing your audience, and structuring your speech effectively. Also, use persuasive language, share personal stories, and engage your audience through eye contact, tone of voice, and body language. Ensure to practice beforehand and be authentic.
What are some effective motivational speech topics?
Effective motivational speech topics include leadership, overcoming obstacles, achieving goals, time management, teamwork, and personal development. Choose a topic that resonates with your audience and use personal anecdotes or examples to connect with them.